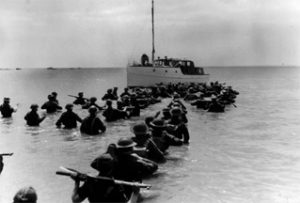 Gary & Beverly Weber and John & Vicki Pumfrey invite you to a potluck event on August the 24th. Our theme is to recognize the events surrounding the efforts of the brave small boat sailors of the Dunkirk evacuation and the recent 75th anniversary of D Day and the sacrifices made for freedom of the world.
In reality this means a relaxing evening to the smooth tunes of the 1940s and an opportunity to share foods and nautical tall stories from around the free world.
Your hosts will be in period clothing and if you so desire please come dressed up accordingly.
We will be providing period alcoholic and non alcoholic cocktails and some period food.  Please support the event by providing suitable "world" foods:
Surname
A-K: Entrees
L-Q: Appetizers
R-Z: Dessert
Ideas include
British – Fish and Chips
German – German Potato salad
French  – French Bread, cheese and wine
American – Burgers and Hot dogs
Italian – Pasta
Canadian – Moose chili
Indian – Curries
Polish – Polish Sausage
Japanese – Saki
The world is out there!!!
Carriages and horses at 5:30 or earlier.