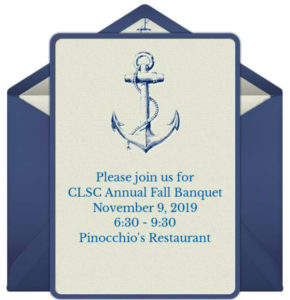 Saturday, November 9, 2019 6:30 – 9:30
Pinocchio's Restaurant
1751 North Hover Street
Longmont, Colorado.
Hello Sailors! Please join us for our annual fall banquet. We have the entire restaurant to ourselves. Pinocchio's is providing us with a buffet including vegetarian tortellini Alfredo, chicken parmesan, sausage lasagna, salad, bread sticks and a nonalcoholic beverage for $25.00 per person. The club will provide appetizers and there will also be a full cash bar available. Andrea Mann will need a final count with payment by Wednesday, November 6th at the absolute latest.